Having supplied the study products for some of the most significant CoQ10 studies in the world, we should be really flattered that so many CoQ10 manufacturers choose to refer to studies involving Bio-Quinone supplied by Pharma Nord.
The study results speak for themselves and have established CoQ10 as one of the most prominent supplements on the market when it comes to improving quality of life.
However, what many other manufacturers 'forget' to mention, when they refer to these studies, is which product was the Original CoQ10 product behind the remarkable results, i.e. Bio-Quinone.
That is a concerning omission, since CoQ10 is not just CoQ10, and Bio-Quinone has a number of unique features that makes it stand out from the typical CoQ10 product on the market: Most noticeable is the oil suspension with two different melting points and a unique crystal structure that ensures a superior absorption. This is so unique that it was granted a European patent.
We really should be flattered, but in fact we are actually concerned that many users of CoQ10 are led to believe that they can achieve the same positive effects found in the studies by taking the typical CoQ10 product on the market. In reality there is only one way to be assured of achieving the same effect, and that is to take the Original CoQ10 that was actually used in the studies.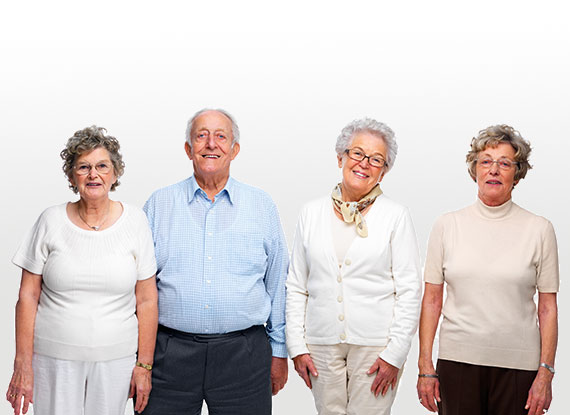 Credit Where Credit Is Due
At Pharma Nord, we are proud of the outcomes of the KiSel-10 Study of combined CoQ10 and selenium supplementation of senior citizens aged 70 to 88 years.1 The KiSel-10 Study researchers elected to conduct the study using the Pharma Nord preparations Bio-Quinone Q10 and SelenoPrecise® because of their demonstrated stability and quality.
Both preparations have been formulated to ensure good absorption and bioavailability, which is documented in numerous published research papers2,3. In the KiSel-10 Study, supplementation with 2 times 100 mg of Bio-Quinone Q10 and 1 time 200 mcg of SelenoPrecise® daily for four years was associated with significantly reduced risk of death from heart disease, significantly improved heart function seen on echocardiography, and significantly reduced bio-marker levels of oxidative stress and inflammation, compared to the placebo group4.
The KiSel-10 Study researchers continued to follow the study participants in the years after the end of the four-year supplementation period and observed that the significantly reduced risk of death from heart disease persisted for another eight years, through year 12 of follow-up4.
Imitation is the Sincerest Form of Flattery
For some time now, we have noticed that the Life Extension company in the USA has been promoting its own products with references to the KiSel-10 Study on their web-site and Facebook page. On Facebook especially, the KiSel-10 Study is presented as though it was conducted with their own Coenzyme Q10 and selenium.
The specific Pharma Nord products used in the study are not mentioned, though the KiSel-10 Study researchers have explicitly explained in their report1 that they used "a patented selenium yeast, SelenoPrecise®, of a pharmaceutical quality … (with) … a documented batch-to-batch stability in its composition of selenium species" and that they used Bio-Quinone Q10 precisely because it has "shown good absorption and efficacy in previous controlled trials."
A second US company, the Doctor's Best company, has gone one step further and has attempted to imitate the KiSel-10 Study preparations in a combined CoQ10 Plus Selenium Yeast product. The Doctor's Best website also uses the KiSel-10 Study in the description of their product; however, without ever revealing that Pharma Nord preparations were used in the study.
We are, of course, flattered that our competitors are marketing their own products using the results from a study done with our products, which must be the highest grade of recognition.
But, somehow, doesn't it seem a bit misleading to use results from clinical trials that were done with products with a different formulation and quality level?

Why Are Absorption and Bio-Availability Important?
All Coenzyme Q10 and all selenium products are not equally well absorbed and bio-available. This is simply not the case. Formulations differ from company to company, and so too does the quality of the products.
We have solid evidence that the Pharma Nord preparations Bio-Quinone Q10 and SelenoPrecise® are indeed of good quality, because we have documented research showing their absorption, bio-availability, and clinical efficacy1-3.
One could ask if all the other products being associated with the studies have actually been tested and documented in the same way?
Maybe they are indeed working, but who knows? As nearly as we can tell, no products have the same documented quality as the Pharma Nord products, which is a very important message for the consumer to take home. Why would anyone want to take a chance on undocumented products?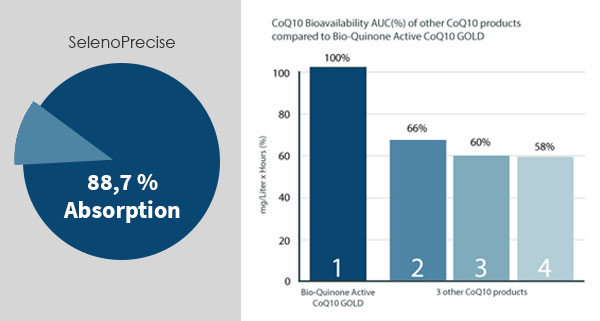 Q-Symbio Study Also a Feather in Pharma Nord's Cap
The outcomes of the KiSel-10 Study has clearly validated the clinical efficacy of Pharma Nord's Bio-Quinone Q10 and SelenoPrecise®.
In this context, it should also be mentioned that the researchers from the Q-Symbio Study that investigated the effect of adjuvant treatment of chronic heart failure patients on mortality and morbidity evenso elected to use Pharma Nord's CoQ10 preparation Myoqinon, which is identical in formulation and manufacturing method to Bio-Quinone Q10.
In the Q-Symbio Study, supplementation with 3 times 100 mg of Coenzyme Q10 for two years was associated with significantly improved symptoms and survival, compared to placebo.5
Bottom Line: Make the right choice
It is a good and very flattering thing that other companies are putting out the word about the results of the KiSel-10 Study. However, in order to present the entire story and help the consumer make the right choice, there should be 100 % transparency about which CoQ10 and selenium yeast preparations were actually used in the study. Consumers deserve to know.
References
1 Alehagen U, Johansson P, Björnstedt M, Rosén A, Dahlström U. Cardiovascular mortality and N-terminal-proBNP reduced after combined selenium and coenzyme Q10 supplementation: a 5-year prospective randomized double-blind placebo-controlled trial among elderly Swedish citizens. Int J Cardiol. 2013 Sep 1;167(5):1860-6.
2 López-Lluch G, Del Pozo-Cruz J, Sánchez-Cuesta A, Cortés-Rodríguez AB, Navas P. Bioavailability of coenzyme Q10 supplements depends on carrier lipids and solubilization. Nutrition. 2019 Jan;57:133-140.
3 Bügel S, Larsen EH, Sloth JJ, Flytlie K, Overvad K, Steenberg LC, Moesgaard S. Absorption, excretion, and retention of selenium from a high selenium yeast in men with a high intake of selenium. Food Nutr Res. 2008;52.
4 Alehagen U, Aaseth J, Alexander J, Johansson P. Still reduced cardiovascular mortality 12 years after supplementation with selenium and coenzyme Q10 for four years: A validation of previous 10-year follow-up results of a prospective randomized double-blind placebo-controlled trial in elderly. PLoS One. 2018 Apr 11;13(4):e0193120.
5 Mortensen SA, Rosenfeldt F, Kumar A, Dolliner P, Filipiak KJ, Pella D, Alehagen U, Steurer G, Littarru GP; Q-SYMBIO Study Investigators. The effect of coenzyme Q10 on morbidity and mortality in chronic heart failure: results from Q-SYMBIO: a randomized double-blind trial. JACC Heart Fail. 2014 Dec;2(6):641-9.