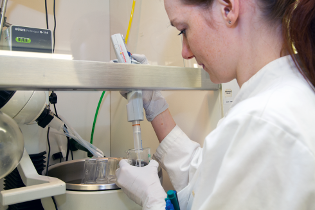 Pharma Nord is one of the relatively few companies that invests in research in its own products. To date, more than 300 scientific studies have been published with Pharma Nord's products. More than a third of these have been done with Bio-Quinone Active CoQ10 Gold.

Two of the latest clinical trials are the remarkable studies KiSel-10 and Q-Symbio, which both show how effectively you can treat and prevent, among others, cardiovascular disease with pharmaceutical grade supplements of CoQ10 or a combination of selenium and CoQ10.
Clear Advantage for the Customer
The benefits to customers are obvious, when a product can document a proven effect from a scientific study. This ensures that:
The active substances are present in the correct amount
They are absorbed by the body
They work as intended
They are safe to ingest
Quality Control Before and After
It is the responsibility of the manufacturer to ensure that dietary supplements are safe and effective. This can only be done through quality control of both raw materials and finished products. This is where Pharma Nord excels.
With its own production, laboratory and research departments, Pharma Nord can ensure that the raw materials are active and without pollutants. When needed, we also contract with external laboratories to provide third party documentation to Danish and European authorities as required.

What is equally important is that we can ensure that the finished tablets and capsules contain the correct amounts of vitamins or minerals up through the expiration date as required for pharmaceutical production. The international scientific research and clinical trials using our products help guarantee both product safety and effect to our customers.
Production Requirements Identical for Dietary Supplements and Medicine
The production of pharmaceutical drugs in our manfacturing plant in Denmark extends its production processess and standards to include all dietary supplements to be produced like our registered medicines. Therefore, the control of raw materials and finished products for our dietary supplements are much higher than what is normally required for production of dietary supplements. Pharma Nord uses not only the cGMP protocol for current good manufacturing practice, but also the guidelines for drug production. Thus, consumers can be better assured of the quality, safety and effectiveness of all products. All of this analysis, control and research obviously makes Pharma Nord's products a little more expensive, but in return, the customer can rest assured always to get the same high quality.
It is important to always choose products that have been used in scientific research, because this documentation is so much more than just marketing – it is reliable clinical documentation by a third party using participants, who are unaware of which product they are taking.