Pharma Nord is one of Europe's largest manufacturers of preventive dietary supplements and herbal remedies. The company develops, manufactures and markets clinically documented dietary supplements, herbal remedies and medicine based on optimal bioavailability, safety and documentation.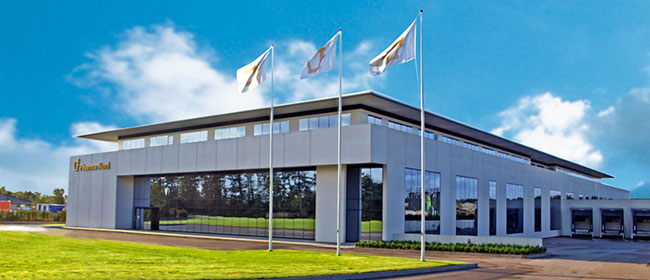 Pharma Nord's research database contains more than 9,000 scientific studies - including a large number of studies conducted with Pharma Nord's own preparations. The database is the cornerstone of the entire product development.
With its production facilities and company headquarters located in Denmark, Pharma Nord has a large operational field. Pharma Nord's products are represented in Europe, the Middle East and in the rapidly expanding markets of Asia and the United States, through 25 daughter companies and 20 business partners.

Pharma Nord is a privately owned limited company.
DANISH QUALITY
Pharma Nord manufactures dietary supplements and herbal remedies in Denmark and is subject to the restrictive Danish laws. Because our legislation is highly respected by markets abroad, Pharma Nord has chosen to meet the increased demand for its products by expanding its Danish production facilities, instead of moving part of its production to other countries.
Pharma Nord's production and storage facilities are located in Vojens, just 50 kilometers from the Danish-German border. The company regularly expands its activities. This way the production capacity is ensured and also optimal conditions are ensured for future growth and development.

A POWERFUL BRAND
Pharma Nord's products have become a well-known brand in many countries, particularly because of the characteristic design with its well-known "quality beacon," the golden mortar and its "peep-hole" to the products inside, the exclusive gold-rimmed boxes and the uniform Bio-concept. Consumers, retailers and health professionals associate these traits with thorough research and a high level of bio-availability and safety. These virtues are what make Pharma Nord's preparations viable in a market that is often ruled by trends. In fact, this is what prompted the international Superbrand Council to nominate Pharma Nord "Superbrand 2007" within the Business-to-Consumer market.


PHARMA NORD'S HISTORY
Pharma Nord was founded in 1981 by the two current owners, Eli Wallin and Sven Moesgaard, who established an import of a British selenium product. Soon after, the product was developed additionally and ended up as the product known as Bio-Selenium®+Zinc, which is still a cornerstone of the product range.
The underlying idea of Pharma Nord was to compensate for the shortcomings of modern diet by means of dietary supplements with high a bio-availability and a documented effect. Bio-Selenium®+Zinc successfully embedded this philosophy in a single product and paved the road for the first daughter companies that were established in Sweden, England and Finland.
Over the years, Pharma Nord has earned a reputation as an innovative and visionary player within its field on several occasions. Pharma Nord was the first company to introduce coenzyme Q10 to the European market. Its product Bio-Quinone Q10 was launched in 1990 and has grown to become one of the leading Q10 products worldwide. This is just one of many examples showing how Pharma Nord has spearheaded the market by channelling new knowledge into new products.
Pharma Nord's products are currently retailed in more than 45 countries. Approximately 85% of the company's products are registered as medical drugs of some kind in one or several countries. This is the reason why all products without exception are manufactured in accordance with the current GMP guidelines (Good Manufacturing Practice).

Do We Need Dietary Supplements and Natural Products?
Today, we increasingly feel a personal responsibility to take care of our health as we grow older. Research clearly documents the health benefits of adequate levels of vitamins, minerals and essential fatty acids. To determine whether our diet is properly balanced with sufficient nutrients is difficult. Agricultural production efficiency produces a mineral-deficient soil supplying fewer nutrients to crops, vegetables and fruits. Early harvesting, overseas shipping or excessive lengths of refrigerated storage may further reduce the vitamin and nutrient contents of end products. Commercial food processing, overcooked food, skipped meals or relying on inadequate snacks/fast foods all contribute to a reduced daily nutrient intake.



Quality-Conscious Consumers
Dietary supplement consumers rightfully have high expectations for the supplement industry and demand a noticeable effect within weeks of supplementation. Dietary supplement manufacturers must substantiate and validate the effect and product quality through research and clinical trials. These consumer demands have been instrumental in the R&D of all Pharma Nord products.

Are All Supplements Effective?
We all vary considerably in our ability to absorb and utilize nutrients from dietary supplements, also known as a product's bioavailability. We do not realize this until we try inexpensive or synthetic products made from inferior raw materials. Pharma Nord products have scientific documentation proving that products are biologically active when ingested and throughout their shelf life. We continuously test and improve every product to ensure the highest possible degree of consistency and bioavailability. In addition to external lab tests and clinical trial participation, our quality assurance lab tests the efficacy and bioavailability of each product batch. Pharma Nord strives to be the best in developing safe and effective supplements you can absorb. Outstanding results in clinical trials are just one reason for our success and consumer demand worldwide.

Pharma Nord's Dietary Supplements

Produced under cGMP & pharmaceutical standards with documented absorption rates
More than 300 clinical trials and studies (and counting) document our products and their effects
Standardized - documented absorption and efficacy
Blister packs increase hygiene - and protect against humidity, oxidation, contamination and dissolving
All cGMP manufacturing processes take place exclusively at our plant in Denmark: Raw material quality assurance (inspection and analysis), production, packaging and finished product shipment to international markets.

Acknowledgements and Awards
The combination of documented products and exclusive retail through retailers and pharmacies has ensured Pharma Nord notable success and worldwide recognition.
Over the years, Pharma Nord has received a number of honorary awards from branch and retail organisations on the different markets. Most recently, Pharma Nord received the following awards:
Oeuvre Award (Lifetime Achievement Award)
Superbrand of the Year on the B2C market (nominated)
Product of the Year
Most informative campaign