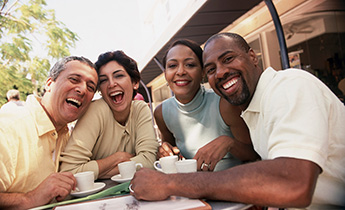 More and more consumers feel that they are gambling with their money, whenever they purchase vitamins and other dietary supplements because, unlike medical drugs, these products do not require any documentation that they work. With the introduction of Pharma Nord's extensive range of science-based nutritional supplements, consumers are guaranteed to get exactly what they pay for.
Quality-conscious Americans with a genuine interest in taking control of their own health and well-being now have access to some of the world's most well-documented nutritional supplements. Pharma Nord's preparations have become a beacon of trust among consumers, simply because they are deeply rooted in scientific research and because Pharma Nord's high pharmaceutical production standards certify their quality, safety and effect.
Consumers Want to Feel Safe
The timing could not be better. More than 150 million Americans use dietary supplements, but the supplement industry's reputation has been tainted by fraudulent manufacturers who have produced and sold counterfeit products, many of which were found to contain undeclared substitute ingredients and in some cases potentially harmful substances.
Pharma Nord enters the US market right at a time when consumers are more concerned than ever with choosing quality products. They want to rest assured that what they pay for is what they get. What is more, they want proof of it. Scientific documentation is a cornerstone of Pharma Nord's company philosophy, and it is the consumers' guarantee for safe and effective products.
Human Studies
- The Ultimate Proof
Two of Pharma Nord's most popular products, the CoQ10 supplement Bio-Quinone Q10 TM and the organic selenium yeast SelenoPrecise®, have made headlines in recent years by placing nutritional supplements in a whole new league. Scandinavian scientists specifically chose these products for two groundbreaking studies in heart health (the Kisel-10 and Q-Symbio studies) that were published in the prestigious science journals, International Journal of Cardiology1 and Journal of the American College of Cardiology, Heart Failure2. It is gold-standard studies like these that represent the most valid proof of a supplement's effect. Not only does this type of research show that the active ingredients get absorbed in the body – it actually documents the health properties of the supplements.
Documentation is Number One
Right from the early 1980s when Pharma Nord launched its first nutritional supplement in Scandinavia, the company has focused exclusively on quality and documentation. It has been a tough struggle at times, especially because Pharma Nord's quality control and documentation requirements have added to the cost of supplement manufacturing, and that makes it difficult to compete against companies whose main focus is cost, not quality. Consumers often choose the less expensive supplements, believing all products are the same and that they save money that way.
Quality is in Demand
They soon realize, however, that their savings turn out to be a waste of money altogether, simply because the inexpensive dietary supplements are not manufactured in such a way that they can guarantee bioavailability and a reliable effect. The cheap products do not work because they are not absorbed by the body. Consumer awareness has changed, and dietary supplement users are increasingly looking for brands that have documented quality and effect. The new consumer behavior is clearly evidenced by an upward hike on the Pharma Nord's sales charts.
Manufactured as Medical Drugs
As one of the very few dietary supplement manufacturers to do so, Pharma Nord produces all of its nutritional supplements following the exact same guidelines as those used for medical drug manufacturing with respect to quality, safety and effect. The company is not required by law to comply with these rigid guidelines, as dietary supplements are not regulated in the same way as medical drugs. Nevertheless, Pharma Nord believes that the only way to validate the quality of the products and allow consumers to trust the brand is to document the effectiveness of the products.
Award-Winning Brands
Over the years, Pharma Nord has won numerous European consumer and retailer awards for providing outstanding quality. One of the distinctions was a British study comparing Pharma Nord's product Bio-Biloba® with 17 other commercially available Ginkgo biloba products. The researchers measured the protective effect (antioxidant strength) of the products and found that Pharma Nord's Bio-Biloba® had the highest effect. Interestingly, many of the products that performed poorly contained substantially more Ginkgo biloba extract than Bio-Biloba®. The unparalleled quality of Pharma Nord's Ginkgo biloba extract and the company's knowledge about applying manufacturing techniques that increase bioavailability is what determined the outcome.
Pharma Nord's US product range includes:
SelenoPrecise® (patented organic selenium yeast)
Bio-Quinone

TM

CoQ10
Bio-ChromiumTM – with ChromoPreciseTM (organic chromium yeast)
Bio-SelenoQ10®
Bio-Sport

1. Int J Cardiol. 2013 Sep 1;167(5):1860-6. doi: 10.1016/j.ijcard.2012.04.156. Epub 2012 May 23. "Cardiovascular mortality and N-terminal-proBNP reduced after combined selenium and coenzyme Q10 supplementation": a 5-year prospective randomized double-blind placebo-controlled trial among elderly Swedish citizens. Alehagen U, Johansson P, Björnstedt M, Rosén A, Dahlström U.
2. JACC Heart Fail. 2014 Dec;2(6):641-9. doi: 10.1016/j.jchf.2014.06.008. Epub 2014 Oct 1. "The effect of coenzyme Q10 on morbidity and mortality in chronic heart failure": results from Q-SYMBIO: a randomized double-blind trial. Mortensen SA, Rosenfeldt F, Kumar A, Dolliner P, Filipiak KJ, Pella D, Alehagen U, Steurer G, Littarru GP; Q-SYMBIO Study Investigators.