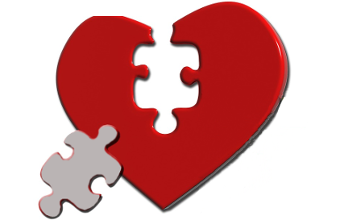 The heart muscle is frequently among the first tissues in humans to suffer damage from selenium deficiency. Harmful free radicals are created as a byproduct of the body's normal metabolism and they cause damage to cell membranes in the heart muscle tissue. These damaged cells result in fibrous tissue, which causes a condition called cardiomyopathy.

In Cardiomyopathy the heart muscle is enlarged, thick and rigid, and as the condition worsens, the weakened heart muscle becomes less and less able to pump adequate quantities of blood to carry oxygen and nutrients to the cells and tissues throughout the body.

The condition according to mayoclinic.org may include symptoms such as: breathlessness, swelling of the legs, ankles and feet, bloating of the abdomen, cough while lying down, fatigue, irregular heartbeats, chest pain, dizziness, lightheadedness and fainting.

Quality of life is often severely compromised for cardiomyopathy patients.

In the US, cardiomyopathy is one of the major causes of chronic heart failure. Approximately six million Americans suffer from chronic heart failure, just as approximately 700,000 new cases of heart failure develop every year.

Oxidative Stress and Selenium
Selenium from the diet or from supplements consist of various selenoproteins. These selenoproteins serve to neutralize the oxidative damage caused by harmful free radicals. Without protection, the free radicals will damage proteins and cell membranes, cell DNA and cell lipids. The common denominator for the damage caused by a surplus of harmful free radicals is called oxidative stress.

Selenium also has an anti-inflammatory effect and can prevent dysfunction of the endothelium (the layer of cells lining the inside of the blood vessels and the heart). Both selenium, in the antioxidant selenoproteins glutathione peroxidase and selenoprotein P, as well as CoQ10, have an antioxidant function. Both serve to lessen the extent of oxidative stress.

The KiSel-10 study
Beginning in 2013, Professor Alehagen from Sweden and his team of cardiologists have been reporting the results of the KiSel-10 study - a well-controlled, four-year study - in which healthy elderly citizens were given a daily supplement of Bio-SelenoQ10 (200 micrograms of selenium from selenium yeast and 200 milligrams of CoQ10) or matching placebos. The CoQ10 used was the same CoQ10 used in the Q-Symbio study on chronic heart failure patients.

Professor Alehagen and his research team have reported the following results for the study participants taking the selenium and CoQ10 supplements as compared to the study participants taking placebo supplements:
A 54% reduction in the risk of dying from heart disease
A reduction in the concentration of the NT-proBNP protein (a bio-marker for heart disease)
A reduction in the concentrations of the C-reactive protein and the sP-Selectin protein (bio-markers for inflammation and for oxidative stress, respectively)
A reduction in hospitalizations and improvements in physical performance, vitality and cognitive function
A reduction in the decline in heart function that is normally associated with aging

Sources

Alehagen, U., Johansson, P., Björnstedt, M., Rosén, A., & Dahlström, U. (2013). Cardiovascular mortality and N-terminal-proBNP reduced after combined selenium and coenzyme Q10 supplementation: a 5-year prospective randomized double-blind placebo-controlled trial among elderly Swedish citizens. International Journal of Cardiology, 167(5), 1860-1866.
Alehagen, U., & Aaseth, J. (2015). Selenium and coenzyme Q10 interrelationship in cardiovascular diseases–A clinician's point of view. Journal of Trace Elements in Medicine and Biology, 31157-162.
Alehagen, U., Lindahl, T. L., Aaseth, J., Svensson, E., & Johansson, P. (2015). Levels of sP-selectin and hs-CRP Decrease with Dietary Intervention with Selenium and Coenzyme Q10 Combined: A Secondary Analysis of a Randomized Clinical Trial. Plos One, 10(9), e0137680.
Fink, K., Moebes, M., Vetter, C., Bourgeois, N., Schmid, B., Bode, C., & … Busch, H. (2015). Selenium prevents microparticle-induced endothelial inflammation in patients after cardiopulmonary resuscitation. Critical Care (London, England), 19, 58.
Mortensen, S. A., Rosenfeldt, F., Kumar, A., Dolliner, P., Filipiak, K. J., Pella, D., & Littarru, G. P. (2014). The effect of coenzyme Q10 on morbidity and mortality in chronic heart failure: results from Q-SYMBIO: a randomized double-blind trial. JACC. Heart Failure, 2(6), 641-649.